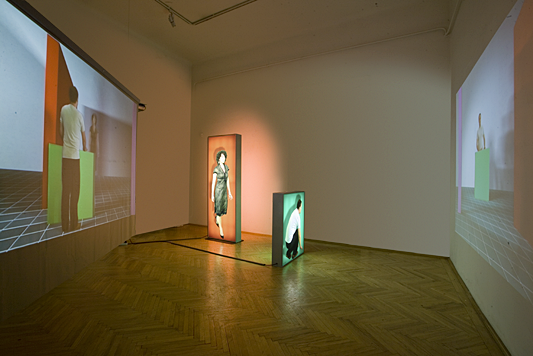 top and bottom: Trap, Erika Deák Galler, Budapest 2010, photo: Zoltán Kerekes
middle: video stills

2010, three-channel video installation and 2 light boxes
Arranging videos and photos in a space this or that way, we can get various views of stories, and reveal aspects that would have gone unnoticed otherwise.
actors: Nóra Winkler, Eike
thanks to: Zsolt Keserue, Zoltán Kerekes, Bálint Benkovits, Erika Deák
Temptation presents a simple story, a situation that all of us have probably been in. Like when you realize only in retrospect that in a certain moment you had a choice, you were at crossroads: 'What would have happened if I had gone with her that day? ...'

We walk among life-size figures appearing on illuminated boxes. The figures are frozen in gestures in certain emblematic moments and poses of their simple stories.

The purity of the emotions and states of mind represented in the scene, and the abstraction of the mental and emotional positions in the still images through freezing and using plain colours without tones, allows us to identify immediately with the character that is hiding. Due also to the size of the figures on the light-boxes and to the spatial arrangement of the boxes and the screens, we become parts of the space. First hand, emotional experience and involvement, but also some distance that allows observation and reflection at the same time.

Zsolt Kozma

This art work is supported by the
National Cultural Fund of Hungary.